1 Ottobre 2015, Festival "Tropea Musica"
29-09-2015
There are no translations available.
FESTIVAL DI TROPEA 2015

ORE 21:00

Chiesa di Michelizia


DUO DE STEFANO PRESENTA


Giovedì 1 Ottobre, Festival Tropea,



Chiesa di Michelizia, ore 21


STAGIONE CONCERTISTICA


TROPEA MUSICA 2015

Musiche di Brahms, Respighi, Martucci, Serrao, Rubinstein


Nella giornata del 1 ottobre 2015, nell'ambito del progetto che vede il Duo protagonista in vari luoghi italiani e non solo con "Le piace Brahms?", arriverà all'intero del prestigioso Festival di Tropea organizzato dall'omonima Associazione che festeggia quest'anno i 20 anni di attività sotto la guida del M.Antonio Laureana.

On the day of October 1, 2015, the "Do you like Brahms?" project of De Stefano piano duo will arrive into the Festival di Tropea organized by the homonymous association, which celebrates with this edition 20 years of activity under the artisic direction by M.Antonio Laureana.
M.A.P. Editions Press Office
Brahms Project: "Aimez Vous Brahms?"
18-04-2015
There are no translations available.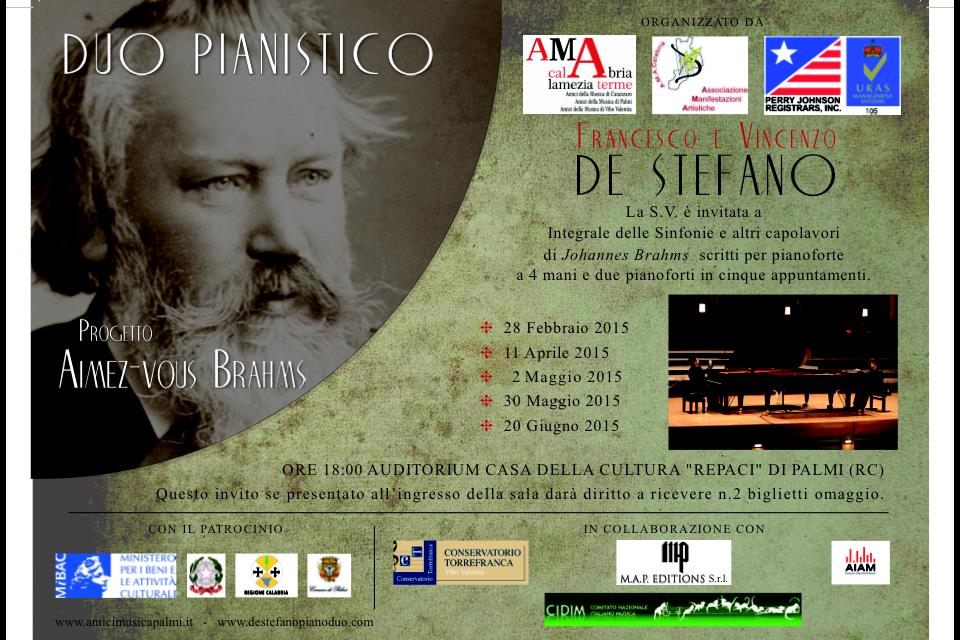 COMUNICATO STAMPA
DUO DE STEFANO PRESENTA
28 Febbraio , 11 Aprile, 2 Maggio, 30 Maggio, 20 Giugno 2015
BRAHMS PROJECT "AIMEZ-VOUS BRAHMS"?
Integrale delle Sinfonie e altri capolavori di Johannes Brahms scritti per pianoforte a 4 mani e due pianoforti in cinque appuntamenti.
Leggi tutto
"AUGURI ROCCELLA" - LA MUSICA DI STRAUSS - DUO DE STEFANO
04-01-2015
There are no translations available.
"Auguri Roccella 2015": il duo De Stefano in concerto augura un felice anno nuovo con la musica della famiglia Strauss
Nell' augurarvi ancora un buon 2015, vi informiamo che oggi 4 Gennaio alle ore 17:00, in qualità di ospiti d' onore della manifestazione "Auguri Roccella" a cura dell' Amministrazione Comunale di Roccella Jonica , offriremo un ampio intervento musicale con valzer, polche, marce e mazurche di Johann Strauss padre, Josef Strauss figlio, Eduard Strauss figlio e Johann Strauss figlio originalmente scritti nella versione per pianoforte.
Vi aspettiamo alle ore 17:00 presso l' Ex Convento dei Minimi di Roccella Jonica.
Saremo ben lieti della Vostra presenza.
Distinti Saluti,
Francesco e Vincenzo De Stefano